Home » Posts tagged 'map'
Tag Archives:
map
LATEST ORIGINAL Genuine Nissan Connect LCN 2 Europe V4 Map SD Card
Part No: KE288-LCN2EV4
2019 – 2020 Ver. 4 LATEST MAPS
Suitable for following cars with Connect LCN 2 navigation system:
E-NV200 (from 2014)
NOTE (from 2013 – 2014)
JUKE (from 2013 – 2014)
LEAF (from 2013 – 2015) ,* not for Nissan EV NAVI
MICRA (from 2013 – 2015)
Cover All Europe and UK:
Germany, Belgium, France, Portugal, United Kingdom, Ireland, Spain, Poland, Italy, Sweden, Austria, Bulgaria, Switzerland, Czech Republic, Denmark, Estonia, Finland, Greece, Croatia, Hungary, Lithuania, Luxembourg, Latvia, Netherlands, Norway, Romania, Slovak Republic, Slovenia, Turkey.
Supported languages:
English, Dutch, Greek, French, German, Finnish, Italian, Danish, Polish, Norwegian, Portuguese, Russian, Spanish, Slovak, Turkish, Hungarian, Swedish, Czech.
Old Card checklist, your old card should have one of these part numbers to be compatible.
25920-1KA0A
25920-1KA0B
25920-1KA0C
25920-1KA0D
KE288-LCN2E15
KE288-LCN2EV2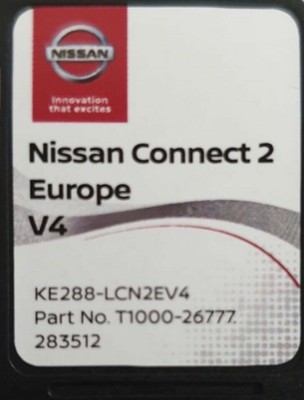 DVD Seat RNS510 RNS810 2020 v17 Map Volkswagen Skoda
Latest sat nav update for all RNS510/RNS810 satnavs
Compatible:
VW RNS510 (B & C units)
VW RNS810
Seat Media System
RNS Skoda Columbus
RNS Skoda Trinax
Please select the country of your choice from the drop down menu.
DVD 1 WEST EUROPE (2020 v17)
Andorra, Austria, Belgium, Czech Republic, Denmark, Finland, France, Germany, Gibraltar, UK, Greece, Hungary, Ireland, Italy, Lichtenstein, Luxembourg, Monaco, Netherlands, Norway, Poland, Portugal, San Marino, Slovakia, Spain, Sweden, Switzerland and Vatican City.
DVD 2 EAST EUROPE (2019)
Albania, Austria, Belarus, Bulgaria, Bosnia and Herzegovina, Croatia, Czech Republic, Denmark, Estonia, Finland, Germany, Greece, Hungary, Italy, Kaliningrad, Latvia, Lithuania, Macedonia, Moldova, Montenegro, Norway, Poland, Romania, Russia, Serbia, Slovakia, Slovenia, Switzlerland, Sweden, Turkey, Ukraine.